Vegetable Tartare with Tomato Coulis

, an interactive recipe on QOOQ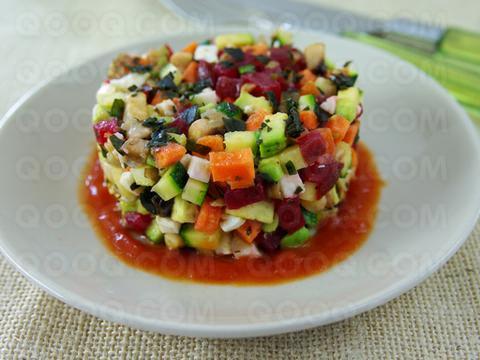 In brief
Preparation
Ingredients
Utensils
Wines
Recipe characteristics
Ingredients used in recipe:
Avocado, Beets (Cooked), Zucchini, Carrot(s), Button Mushroom(s), Mozzarella, Shallot, Black Olive(s), Basil, Salt, Ground Pepper, Olive Oil, Tomato Sauce
Type of dish:
Vegetables > Cold Starters > Appetizers
Preparation time:
Fast, 15 minutes
Difficulty / Price / Calories:
Intermediate / Inexpensive / Light
Word from the chef
Discover a really fresh tasting recipe that retains both the flavor and nutrients of all the vegetables.
Serve chilled with dried duck breast or smoked ham.
Recipe overview
Chill the tomato coulis in the refrigerator for a few hours before serving.
Peel and finely chop the shallot and the basil. Pit the olives and slice them thinly.
Cut the mozzarella and the vegetables into little cubes.
Mix all the ingredients together in a mixing bowl and season them with salt, pepper, basil and olive oil.
Place the tartare mixture ...
Techniques used in this recipe
Other recipes by Vegetables