Succotash

, an interactive recipe on QOOQ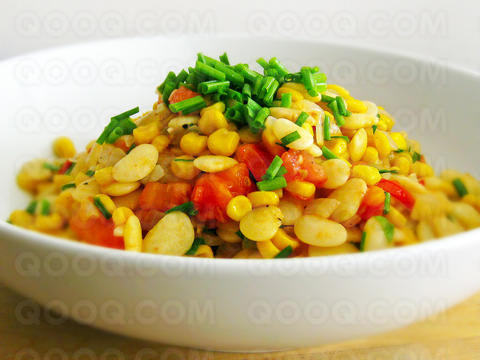 In brief
Preparation
Ingredients
Utensils
Wines
Recipe characteristics
Ingredients used in recipe:
Sweet Corn, White Beans, Chive(s), Onion, Garlic, Tomato, Olive Oil, Butter, Vegetable Stock, Salt, Ground Pepper
Type of dish:
Mixed Vegetables > Vegetables and Sides > Entrées
Preparation time:
45 minutes
Difficulty / Price / Calories:
Easy / Inexpensive / Light
Word from the chef
The word "succotash" comes from a Narragansett word for boiled corn kernels. This is why, although there are many variations of succotash, it always includes corn. This dish, with its buttery sweet corn and sweet tomatoes, is a delightfully light and summery side dish. It is perfect as an accompaniment to barbecues.
These days, it is relatively easy to find quality, frozen corn, so that means you can have sweet corn all year round. Feel free to use frozen beans, if canned or fresh corn is not available.
Recipe overview
Peel the onion and dice it into small squares roughly the size of your thumbnail (1/2 inch). Set aside in a bowl.
Peel and finely mince the garlic. Add to the onions.
Rinse and dice the tomatoes into large chunks, roughly the same size as the onions. Set aside in a separate bowl.
Rince and dry the chives with paper towel. Finely mince the chives into very small pieces. Set aside in a separate bowl.
Heat up the oil ...
Techniques used in this recipe
Other recipes by Mixed Vegetables