Indian Cream of Coral Lentil Soup

, an interactive recipe on QOOQ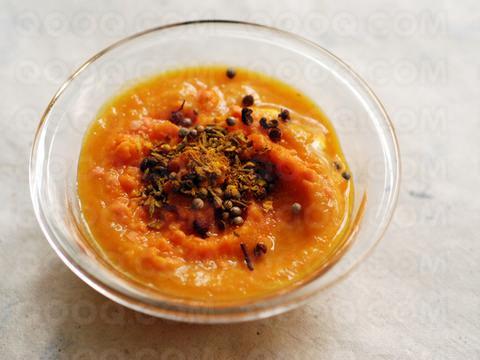 In brief
Preparation
Ingredients
Utensils
Wines
Recipe characteristics
Ingredients used in recipe:
Yellow Lentil, Butter, Onion, Water, Coconut Milk, Turmeric, Cardamom, Coriander Powder, Cumin Powder, Salt, Ground Pepper
Type of dish:
Hot Soups > Soups > Appetizers
Preparation time:
30 minutes
Difficulty / Price / Calories:
Easy / Inexpensive / Light
Word from the chef
Fly off on this magic carpet of Indian cuisine!
The spices used in this recipe can be replaced by the same proportion of curry powder or other spices of your choice.
Recipe overview
Finely chop the onion.
Melt the butter in a frying pan over medium heat. When the butter begins to froth, add the onion. Cook the onion stirring continuously until translucent.
Add the lentils and the spices, stir and add the water and coconut milk. Cook for about 20 minutes. The lentils should be soft.
When the lentils are cooked, blend them for a short period.
Swirl some coconut milk ...
Techniques used in this recipe
Other recipes by Hot Soups