Berkoukes - Algerian Lamb Couscous

, an interactive recipe on QOOQ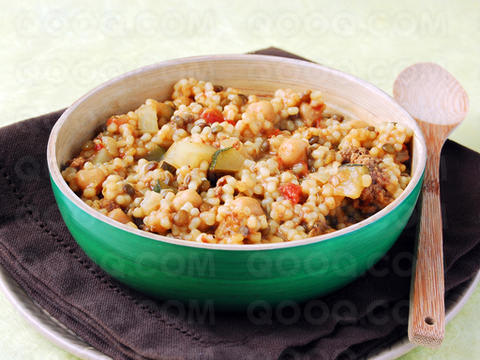 In brief
Preparation
Ingredients
Utensils
Wines
Recipe characteristics
Ingredients used in recipe:
Shoulder of Lamb, Israeli Couscous (Ptitim), Zucchini, Turnip, Chickpeas (Canned), Yellow Lentil, Carrot(s), Potato(es), Tomato, Onion, Garlic, Bay Leaf, Paprika, Ras El Hanout, Cinnamon (Ground), ...
Type of dish:
Hot Soups > Soups > Appetizers
Preparation time:
1 hour 0 minutes
Difficulty / Price / Calories:
Easy / Inexpensive / 518 kcal
Word from the chef
In Algeria, a Berkoukes is a complete meal that is most often prepared during the winter months.
The Berkoukes are prepared with Israeli (or giant) couscous which can be found in Middle Eastern or Asian grocery stores. If you cannot find it, use farfalle pasta instead.
Recipe overview
Peel and finely dice the carrot, potato, zucchini and turnip.
Blanch the tomato and cut it into pieces.
Peel and mince the onion.
Cut the meat into medium-sized pieces.
Peel and degerm the ...
Techniques used in this recipe
Other recipes by Hot Soups